Intel Solid-State Drive DC P3608 Series

Extreme Performance Extraordinary Capacity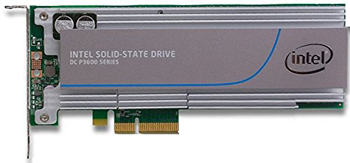 Intel Products
Intel Solid-State Drive DC P3608 Series
Intel SSD DC P3608 Series (1.6TB, 1/2 Height PCIe 3.0 x8, 20nm, MLC)
#SSDPECME016T401
Our Price: $3,858.00
Intel SSD DC P3608 Series (3.2TB, 1/2 Height PCIe 3.0 x8, 20nm, MLC)
#SSDPECME032T401
Our Price: $7,814.00
Intel SSD DC P3608 Series (4.0TB, 1/2 Height PCIe 3.0 x8, 20nm, MLC)
#SSDPECME040T401
Our Price: $9,767.00
Click here to jump to more pricing!
Overview:
Extreme Performance – Moving Data Closer to the CPU
The Intel® SSD DC P3608 Series taps into the power of the NVMe™ interface to deliver new levels of PCIe® perfomance and ultra-low latency. When paired with multi-core Intel® Xeon® processors, the SSD's unique NVMe dual controller architecture enables highly efficient scalability, evenly distributing I/O across the PCIe 3.0 x8 link to obtain real-world transfers of over 5GB/s bandwidth and up to 850,000 random read IOPS.
Extraordinary Capacity – Doubling the Max Capacity
Enabling capacities of 1.6, 3.2, and 4TB in a single PCIe 3.0 x8 low profile add-in card, the Intel SSD DC P3608 Series can provide twice the capacity in the same physical volume versus the Intel® SSD DC P3600 Series.
Exceptionally Easy – Upgrade Existing Systems Today!
The Intel SSD DC P3608 Series are ready to be deployed right out of the box. They come in a common, industry-standard form factor: PCIe 3.0 x8, half-height, half-length, low-profile add-in card. And they're designed to work with industrystandard NVMe software and drivers.
The Need for High-Performance Storage in the Data Center
The digital service economy is driving the move to cloud computing, benefiting a wide range of users. Developers can launch innovative new services in minutes. IT can reduce operational and capital expenditures, while increasing resource utilization. And consumers and business users can instantly access new, rich, high-value services from anywhere.
Cloud services are also driving increased demand for real-time analytics and High-Performance Computing (HPC) capabilities. These compute- and data-intensive workloads help businesses solve their most complex challenges. By 2018, 60% of businesses are forecast to require HPC solutions, and 40% of HPC will be available on demand in the cloud1 – workloads that require new levels of storage performance and capacity.
Raising High-Performance Computing Even Higher
The Intel® SSD DC P3608 Series delivers the extreme performance and extra-ordinary capacity today's realtime analytics and HPC workloads need.
The PCIe 3.0 x8 interface doubles available bandwidth to reduce I/O bottlenecks, while NVMe fuels the CPU with data much faster than SAS or SATA. In one HPC burst buffer use case, a single node achieved a total write bandwidth of up to 6GB/sec using two Intel SSD DC P3608 Series.
Coupling high-performance Intel SSD DC P3608 Series storage with the world's largest supercomputers can help solve some of HPC's biggest scalability challenges, including cost, performance, resiliency, and energy efficiency.
Features:
Features
Benefits
Enhanced Power Loss Management
Protection from unplanned power loss called PLI (Power Loss Imminent) is obtained using a propriety combination of hardware, firmware algorithms, built in self-test, and the robust validation at a multitude of corner cases
20nm HET MLC NAND
(High-Endurance Technology)
Up to 3 DWPD (Drive Writes Per Day) over 5 years. The endurance is based on the JEDEC enterprise workload, and real world endurance is application based and may exceed the rated value. The Intel® SSD DC P3608 Series 4TB can write up to 21.9PB over the life of the drive before wearing out.
End-to-End Data Protection
End-to-end data protection and ECC (Error Correction Code) on all internal and external memories in the data path for protection at every layer.
Dual NVMe Controller
The NVMe protocol is more efficient than SATA or SAS, providing more IOPS at a lower CPU utilization. The dual controller architecture allows the SSD to simultaneously transfer data with this improved efficiency, and can be aggregated through the Intel® RSTe software.
Technical Specifications:


Product
P3608
Capacity
1.6TB
3.2TB
4TB
4k Random Read Iops
850,000
4K Random Write IOPS
150,000
80,000
50,000
SEQ Read/Write MB/s
5000/2000
4500/2600
5000/3000
Endurance (PBW)
8.76
17.52
21.90
Power (Read/Write)
18/30W
18/30W
20/40W
Power Idle
11.5W
Intel Products
Intel Solid-State Drive DC P3608 Series
Intel SSD DC P3608 Series (1.6TB, 1/2 Height PCIe 3.0 x8, 20nm, MLC)
#SSDPECME016T401
Our Price: $3,858.00
Intel SSD DC P3608 Series (3.2TB, 1/2 Height PCIe 3.0 x8, 20nm, MLC)
#SSDPECME032T401
Our Price: $7,814.00
Intel SSD DC P3608 Series (4.0TB, 1/2 Height PCIe 3.0 x8, 20nm, MLC)
#SSDPECME040T401
Our Price: $9,767.00