Intel Solid-State Drive DC S3700 Series

Non-Volatile Memory Storage Solutions from Intel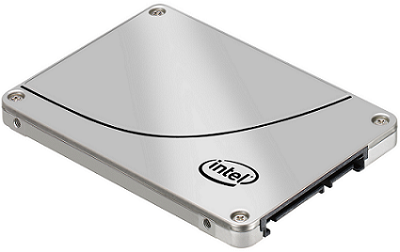 Intel Products
Intel Solid-State Drive DC S3700 Series
Intel Corporation 100GB DC S3700 SERIES SSD SATA
6GBPS 2.5IN 25NM MLC BROWN BOX
#SSDSC2BA100G301
Our Price: $297.00
Intel Corporation 200GB DC S3700 SERIES SSD SATA
6GBPS 2.5IN 25NM MLC BROWN BOX
#SSDSC2BA200G301
Our Price: $564.00
Click here to jump to more pricing!
Overview:
Fast and Consistent Performance
Deliver data at a rapid pace, with consistently low latencies and tight IOPS distribution.
The Intel® Solid-State Drive DC S3700 Series delivers superior performance with 4KB random read performance of up to 75,000 IOPS and 4KB random write performance of up to 36,000 IOPS . With a 10% input/output operations per second (IOPS) distribution and max latencies of <500µs for 99.9% of the time, the DC S3700 Series will ensure quick and consistent command response times. All this performance delivered with low active power consumption (less than or equal to 6 watts) means this Intel SSD will help reduce your overall energy costs—making it an excellent value for data center storage applications upgrades!
Stress-free Data Protection
Protect your data center applications with multiple security checkpoints providing protection against data loss and corruption.
The Intel® Solid-State Drive DC S3700 Series combines the following features to provide an SSD you can count on.
Full End-to-End Data Protection. Protects your data from the time it enters the drive to the time it leaves. The DC S3700 uses an advance error correction scheme that ensures data integrity by protecting against possible data corruption in the NAND, SRAM, and DRAM memory. The DC S3700 also protects the data in transit through several techniques such as parity checks, Cyclic Redundancy Checks (CRC) and LBA tag validation. Once an error is detected, an immediate attempt will be made to correct it, and any uncorrectable error will be reported to the host. To further improve data assurance, the Intel SSD DC S3700 provides an array of surplus flash memory that caches data to minimize potential data loss.
Advanced Encryption Standard (AES) Capable. Protects your data from external threats and internal system issues with 256-bit encryption technology, giving you the peace of mind that your company's data is secure and safe
Enhanced Power-Loss Data Protection. Reduces potential data loss by detecting and protecting data from an unexpected system power loss. The drive saves all cached data in the process of being written before shutting down, thereby minimizing potential data loss
High Endurance Technology
Meet your most demanding needs with marathon-like write endurance.
Incorporating High Endurance Technology (HET), the Intel® SolidState Drive DC S3700 Series delivers single-level cell (SLC) solidstate drive like endurance in a multi-level cell (MLC) SSD package. By combining SSD NAND management techniques and NAND silicon enhancements, HET enables the DC S3700 Series 10 Drive Writes Per Day (DWPD) over a 5 year life. For the DC S3700 Series 800 GB, that's equivalent to recording over 186 years of HD video over the life of the drive.
Product Spotlight
Fast and Consistent Performance
Full End to End Data Protection
Enhanced Power-Loss Data Protection
Latest 25nm MLC NAND Flash Memory Technology
Intel-Based Controller Technology
2.5" and 1.8" Form Factors
Technical Specifications:


Intel Solid-State Drive DC S3700 Series
Model Name
Intel® Solid-State Drive DC S3700 Series
Capacity
2.5": 100GB, 200GB, 400GB and 800GB
1.8": 200GB, and 400GB
NAND Flash Memory
25nm Intel® NAND Flash Memory Multi-Level Cell Compute-Quality Components with High Endurance Technology
Bandwidth2

Sustained Sequential Reads
100GB: up to 500 MB/s
200GB: up to 500 MB/s
400GB: up to 500 MB/s
800GB: up to 500 MB/s
Sustained Sequential Write
100GB: up to 200 MB/s
200GB: up to 365 MB/s
400GB: up to 460 MB/s
800GB: up to 460 MB/s

Read / Write Latency
45 µs / 65 µs
Random I/O Operations per Second (IOPS)2

4KB Reads / Writes
100GB: up to 75,000 IOPS / 19,000 IOPS
200GB: up to 75,000 IOPS / 32,000 IOPS
400GB: up to 75,000 IOPS / 36,000 IOPS
800GB: up to 75,000 IOPS / 36,000 IOPS
8KB Reads / Writes
100GB: up to 47,500 IOPS / 9,500 IOPS
200GB: up to 47,500 IOPS / 16,500 IOPS
400GB: up to 47,500 IOPS / 19,500 IOPS
800GB: up to 47,500 IOPS / 20,000 IOPS

Interface
SATA 6Gb/s, compatible with SATA 3Gb/s and1.5Gb/s.
Form Factor, Height and Weight

2.5 inch and 1.8" Industry Standard Form Factor
Height: 2.5" 100GB, 200GB, 400GB, and 800GB 7.0 mm thick; 1.8" 5 mm thick
Weight: 2.5" 200,400,800 GB: 73.6 grams ± 2 grams;
2.5" 100GB: 70 grams ± 2 grams;
1.8" 200, 400GB: 49 grams ± 2 grams

Life Expectancy
2 million hours Mean Time Between Failures (MTBF)
Lifetime Endurance
Up to 10 Drive Writes Per Day3
Power Consumption
Active: up to 6 W Typical
Idle: 650 mW Typical
Operating Temperature
0° C to 70° C
RoHS Compliance
Meets the requirements of European Union (EU) RoHS Compliance Directives
Product Health Monitoring
Self-Monitoring, Analysis and Reporting Technology (S.M.A.R.T.) commands
Product Ordering Information
To order, visit intel.com/go/ssd
Based on the Intel® SSD DC S3700 Series Product Specification.
Device measured using Iometer with 4K Random Writes QD=32 across 100% span of the drive. Latency measured using write transfer size of 4KB (4,096 bytes) and queue depth set to 1.
Based on JESD218 standard
Intel Products
Intel Solid-State Drive DC S3700 Series
Intel Corporation 100GB DC S3700 SERIES SSD SATA
6GBPS 2.5IN 25NM MLC BROWN BOX
#SSDSC2BA100G301
Our Price: $297.00
Intel Corporation 200GB DC S3700 SERIES SSD SATA
6GBPS 2.5IN 25NM MLC BROWN BOX
#SSDSC2BA200G301
Our Price: $564.00
Intel Corporation 400GB DC S3700 SERIES SSD SATA
6GBPS 2.5IN 25NM MLC BROWN BOX
#SSDSC2BA400G301
Our Price: $1,187.00
Intel Corporation 800GB DC S3700 Series SSD SATA
6GBPS 2.5IN 25NM MLC Brown Box
#SSDSC2BA800G301
Our Price: $2,070.00
Intel Solid-State 1.8in Drive DC S3700 Series
Intel 200GB 1.8in DC S3700 Series SSD SATA
6GBPS 1.8IN 25NM MLC Brown Box
#SSDSC1NA200G301
Our Price: $408.00