Intel Solid-State Drive DC S3510 Series

Consistently amazing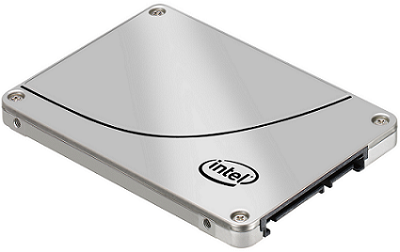 Intel Products
Intel Solid-State Drive DC S3510 Series
Intel 240 GB 2.5in Internal Solid State Drive-OEM
240GB DC S3510 SERIES SSD SATA 2.5IN 16NM
#SSDSC2BB240G601
Our Price: $202.00
Click here to jump to more pricing!
Overview:
Optimized Data Center Endurance
Demanding applications require highly reliable storage coupled with consistent performance. The Intel® SSD DC Family for SATA offers a full range of endurance and performance levels, designed to meet the needs of your data center workloads.
The Intel® SSD DC S3710 Series with 10 full drives writes per day (DWD) is the perfect choice for applications demanding high write performance such as High Performance Computing (HPC), High Definition Imaging and Video (HDIV), high data rate analytics and databases, large scale virtualization, and Video on Demand content delivery.
The Intel® SSD DC S3610 with 3 full DWD delivers the ideal balance of endurance and performance for mixed read-write workloads such as virtualization and e-commerce
Additionally, the Intel® SSD DC S3510 with .3 full DWD is optimized for readintensive applications such as boot, web servers, lower data rate operational databases and analytics.
Stress-Free Data Protection
All of the products in the Intel SSD DC Family for SATA protect data with full end-to-end data protection, 256- bit encryption Advanced Encryption Standard (AES) technology, sophisticated error protection schemes, and enhanced power loss and thermal monitoring features.
High Reliability – Low Total Cost of Ownership
Intel® SSDs are known industry wide for quality and reliability. The Intel SSD DC Family for SATA is engineered to reduce downtime as a result of storagerelated failures and designed to meet an Annualized Failure Rate (AFR)2 of 0.44%. The Intel SSD DC Family for SATA significantly reduces Total Cost of Ownership (TCO). Held to the highest validation standards, the Intel SSD DC Family for SATA is analyzed in more than 5,000 unique tests and is fully supported with Intel's 5-year limited warranty and customer support.
Power-Efficient Performance
The Intel® SSD DC Family for SATA accelerates data center performance with read-write throughput speeds up to 550/520 megabytes per second (MB/s) and 4K random read-write input/ output operations per second (IOPs) up to 85,000/45,000. Applications benefit from 55 µs typical latency with max read latencies of 500 µs 99.9%5 of the time. Combining performance with low typical active power (less than 6.9 watts), the Intel SSD DC Family for SATA improves data center efficiency with superior quality of service, reduced energy costs, and is ideal for server or application upgrades.
Technical Specifications:


Series Name
3710 Series
3610 Series
3510 Series
Capacities
2.5": 200, 400, 800 GB, 1.2 TB
2.5": 100, 200, 400, 480, 800 GB 1.2, 1.6 TB
1.8": 200, 400, 800 GB
2.5": 80, 120, 240, 480, 800 GB 1.2, 1.6 TB
NAND Flash Memory
20nm NAND Flash Memory Multi-Level Cell (MLC) with High Endurance Technology (HET)
16nm NAND Flash Memory Multi-Level Cell (MLC) with Standard Endurance Technology (SET)
Sustained Sequential Reads / Writes (mb/s)
Bandwidth
Up to 550 / 520
Up to 540 / 520
Up to 500 / 460 MB/s
4kb Reads / Writes (iops)
Random I/O Operations per Second
Up to 85,000 / 45,000
Up to 84,000 / 28,000
Up to 68,000 / 20,000
Interface
SATA 6Gb/s, compatible with SATA 3Gb/s
Form Factor
2.5-inch 1.8-inch
Height and Weight
Up to 7 mm / Up to 96 grams Up to 5 mm / Up to 96 grams
Life Expectancy
2 million hours Mean Time Between Failures (MTBF)
Lifetime Endurance
Up to 10 Drive Writes per Day
Up to 24.3 Petabytes Written
Up to 3 Drive Writes per Day
Up to 10.7 Petabytes Written
Up to .3 Drive Writes per Day
Up to 880 TBW
Power Consumption
Active: Up to 6.9 W Typical Idle: 700 mW Typical
Operating Temperature
0° C to 70° C
RoHS Compliance
Meets the requirements of European Union (EU) RoHS Compliance Directives
Product Health Monitoring
Self-Monitoring, Analysis and Reporting Technology (S.M.A.R.T.) commands
Intel Products
Intel Solid-State Drive DC S3510 Series
Intel 240 GB 2.5in Internal Solid State Drive-OEM
240GB DC S3510 SERIES SSD SATA 2.5IN 16NM
#SSDSC2BB240G601
Our Price: $202.00
Intel Solid-State 2.5in Drive DC S3510 Series
Intel 480 GB 2.5in Internal Solid State Drive-OEM
480GB DC S3510 SERIES SSD SATA 2.5IN 16NM
#SSDSC2BB480G601
Our Price: $342.00
Intel 800 GB 2.5in Internal Solid State Drive-OEM
800GB DC S3510 SERIES SSD SATA 2.5IN 16NM
#SSDSC2BB800G601
Our Price: $576.00
Intel 1.2 TB 2.5in Internal Solid State Drive-OEM
1.2TB DC S3510 SERIES SSD SATA 2.5IN 16NM
#SSDSC2BB012T601
Our Price: $858.00
Intel 1.6TB 2.5in Internal Solid State Drive-OEM
1.6TB DC S3510 SERIES SSD 2.5in 6GB/S SATA 16NM
#SSDSC2BB016T601
Our Price: $1,153.00